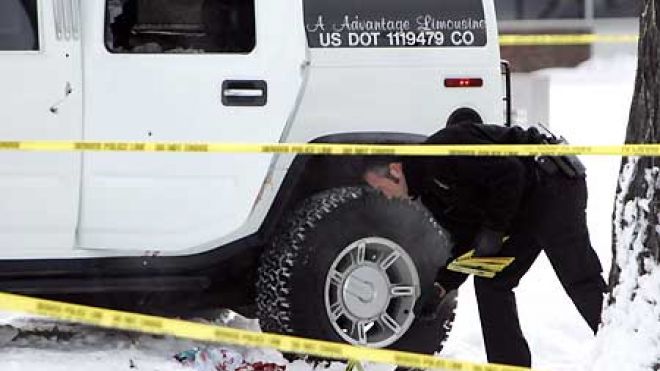 In the early hours of January 1st, 2007, three Denver Broncos left a club where they had been ringing in the New Year, and celebrating the birthday of then Denver Nugget Kenyon Martin. Minutes later, a horrific event forever changed the lives of these three Broncos, who were both teammates and friends.
"I still have those clothes."
April 20th, 2002 - Day 1 of the NFL Draft. The Green Bay Packers draft Javon Walker in the first round and 20th overall.[1] He is the third of thirty-four wide receivers to be taken in the draft, behind only Donte Stallworth (Saints) and Ashley Lelie (Broncos).[2]
1
2
March 4th, 2004. The Washington Redskins trade star defensive back Champ Bailey and a second-round pick to the Broncos for running back Clinton Portis. Bailey would remain the starting left cornerback for the next nine years, and although currently out with a foot sprain, the job is still his.[3]
3
April 23rd, 2005. Despite trading for Bailey in the previous offseason, the Broncos use their first three picks of the 2005 NFL Draft on defensive backs, hoping to address the weak side of their secondary.[4] The first of these three picks is used on defensive back Darrent Williams out of Oklahoma State.
4
"It's just something that reminds me every day of what could happen and this is what happened to my friend. And this is like…what's left of him is on my clothes."
September 11th, 2005. Javon Walker tears his ACL in the first game of the season for Green Bay. He will miss the entire year. Williams, however, has a successful rookie season, recording 50 tackles and intercepting 2 passes, one for a score. Thanks to his stellar play and trademark "fro-hawk" Williams becomes a fan favorite. One of the fans he wins over is my younger brother, Ryan, 14 at the time, who to this day is still the biggest Bronco fan that I know.
April 29th, 2006. The Broncos select quarterback Jay Cutler out of Vanderbilt with their first-round pick in the 2006 NFL Draft. On the same day, the Packers agree to trade Javon Walker to Denver for a second-round pick.[5] Unhappy that the Broncos traded for another #1 receiver, Ashley Lelie requests a trade. Denver complies, sending him to the Falcons in a three-team deal. Now needing to fill the new void at receiver left by Lelie, the Broncos select Brandon Marshall in the fourth round of the draft, the very next day.[6]
5
6
Sunday, December 3rd, 2006. After losing 3 of their last 5 games, the Broncos decide to bench quarterback Jake Plummer in favor of rookie Jay Cutler. Cutler instantly gels with Marshall, and they connect on a 71 yard touchdown pass to tie the game late in the fourth quarter.
"All I remember at that point in time was he was just looking up at me and I was like, 'I got you, Dee. I got you, Dee. I got you, Dee.' So the limo went off the road into the side of the snow. I just remember grabbing him, pulling him out the limo."
Sunday, December 24th, 2006. Javon Walker catches 3 passes for 52 yards and a touchdown, while Brandon Marshall adds 4 catches for 65 yards of his own in a win over the Cincinnati Bengals. Darrent Williams gets his 4th interception of the season, solidifying his role as starting cornerback opposite Champ Bailey. The Broncos are a win away from making the postseason. On Christmas morning the next day, my brother finds that Santa has brought him the jersey of his favorite player, Darrent Williams.[7]
7
Sunday, December 31st, 2006. The Denver Broncos are eliminated from playoff contention on the final day of the regular season, losing to the 49ers 26-23 in overtime. Although their season is over, the Broncos show promise, along with a wealth of young talent. Along with Cutler, Javon Walker, Darrent Williams and Brandon Marshall all show signs of turning into stars for this young Denver team.[8]
8
Later that night, Walker, Williams and Marshall head out to the Safari nightclub in downtown Denver, where at least three of their teammates and two Denver Nuggets players are celebrating New Year's Eve. The ensuing events after midnight are a point of much dispute.
"You don't know what to think, to have someone die in your arms and you know you're the last person he hugged."
January 1st, 2007, 12:00 AM. When midnight strikes, Brandon Marshall's cousin, Blair Clark, shakes and sprays a bottle of champagne over the entire 3rd floor VIP section of Safari, angering two members of the Denver Crips, a notoriously violent gang. An argument starts between Marshall, Clark, and the two gang members, who are promptly removed from the 3rd floor VIP section.
1:30-2:00 AM.  The two gang members confront Marshall and Clark again. When the argument gets heated, the two gang members are kicked out of the night club. But instead of leaving the premises, they wait outside and confront Marshall and Clark when the party draws to a close, reigniting their feud.
2:10 AM. Williams, worried that the argument is escalating out of control, heads over into the midst of the fight, before things get physical, pleading with everyone to break it up. In front of the entire group, he tells Marshall, "Come on, get in the limo." After having no success, Williams leaves and joins Walker in the white stretch Hummer that he arrived in. A minute later the argument finally ends and the groups separate. Marshall and his cousin head to their own Lincoln town car that will take them back to the suburbs, the opposite direction of Williams and Walker.
2:13 AM. The white Hummer with Walker, Williams, and a handful of friends and dates leaves the club. A white Chevy Tahoe pulls up in the lane to its left. Seconds later, as Walker is leaning over to reach for the music, Williams falls into his lap. Thinking that he's just messing around, Walker then moves to push Williams away. That's when he sees the blood pouring out from Williams' neck. He attempts to stop the bleeding, cradling Williams in his arms while applying pressure to the wound, which has now stained Walker's white shirt. But to no avail, as Williams dies almost instantly as he slumps into Walker's arms.
"Javon picked him up, he was like, 'Don't die on me. Don't die on me.' But D wasn't saying nothing, he was holding him like he was a baby."
January 6th, 2007. Five days after his death, Darrent Williams is laid to rest in his hometown of Fort Worth, Texas. In attendance was Williams' mother, Rosalind Williams, along with high school sweetheart, Tierria Leonard. In the days following his death, and the weeks thereafter, Leonard would call Darrent's phone regularly to hear the recorded sound of his voice. At the funeral, their seven-year-old son Darius asks his mother if Daddy has his cell phone in the coffin.
Javon Walker does not make an appearance.[9]
9
"Maybe when I see him in heaven, I can ask him, maybe put it behind me then."[10]
10
The Aftermath:
The new year in Denver began with the end of a life, and so, the end of a promising career. And although nothing can rival Williams' grim fate, his teammates did not escape the incident without scars of their own. Walker, who held Williams in his dying moments, was never the same, not as a player, and perhaps not as a man. From 2007 to 2008, Walker played for both the Broncos and the Raiders, totaling only 41 receptions, 483 yards and a single touchdown, never playing in more than 8 games each year.[11] In 2009, he played in 3 games, never tallying a single catch. He retired the next year. Marshall's football career, while more successful, has been beset by bi-polar disorder and an almost endless string of off-the-field incidents. [12]
And as for the jersey that my brother received, just days before Williams was killed, "I wore it once to school, the first day after Christmas break. Then I hung it up on the wall when I got home." It hasn't moved since.