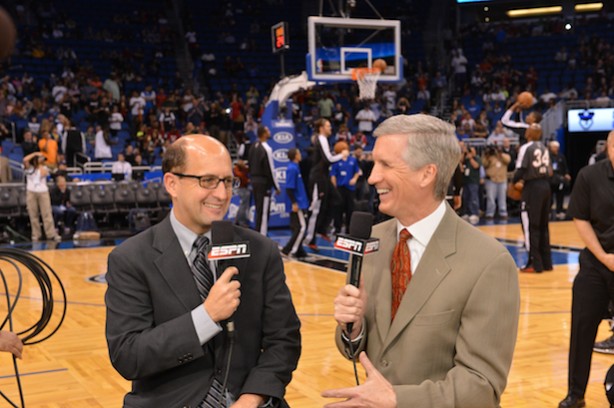 The time I stayed in on a Friday night to watch a Lakers-Warriors game, then proceeded to reevaluate my life in its entirety.
As you may or may not know, I was a little overly excited for the Lakers season (pre-Kobe) this year. Thanks to that, I decided to watch an entire Lakers' game while documenting said excrement.[1] Excuse me, excitement.
1
10:32 pm – Quick injury report from the folks at ESPN – Kobe isn't playing tonight, in case anyone was wondering. In case you have been living under a rock.
10:43 pm – Sweet deal! We've got Mike Breen and Jeff Van Gundy in the booth commentating, and Mark Jackson's coaching Golden State to boot – the gang's all here.
Mike Breen lets us know that Steph Curry is out tonight after suffering a concussion two games ago. He then informs us that Kobe Bryant will not play tonight, but reported it in the same vein as someone reporting breaking news. Here's some breaking news: it's not breaking news.
In case you weren't already enamored with him, Jeff Van Gundy attempts to sit down while on camera, not realizing he's still being filmed. He's the best.
10:45 pm – As we tip-off, the Lakers' starters tonight are Pau Gasol, Jordan Hill, Jodie Meeks, Steve Blake and Wesley Johnson. I didn't see Shawne Williams' name there, so I'm fine with this lineup.
Unlike Jeff Van Gundy, Steve Blake is not the most attractive person in the world. I'm sorry if you feel otherwise.
10:47 pm – Mike Breen: "So how's Golden State different without Steph Curry?"
Hmm… worse?
10:54 pm – ESPN telecast shows the replay of Kobe Bryant's Achilles injury last season, while also informing us, again, that he won't be playing tonight. At this point, I still have one lingering question: "What's Kobe's status for tonight?"
The replay of his injury brings up some forgettable memories from last year. Like the team's injury woes, Mike D'Antoni's coaching, and Dwight Howard's everything.
10:55 pm – Finally, we get a camera close-up of Mike D'Antoni's mustache.
10:56 pm – Shawne Williams and Nick Young check into the game. I think it's time to knock out a few levels of Candy Crush.
10:59 pm – Andrew Bogut fouls Pau Gasol, leading Mike Breen to say, "That's two fouls on Boguts."
I'll let it slide this once, but people who add an unnecessary "s" to the end of a word fall under the same category as people who use the phrase "amazeballs". I'm looking at you, guy who says Barnes and "Nobles". Nails on a chalkboard. Get it together, Breen.
11:02 pm – Nick Young, playing hard defense, gets a steal and hustles down the court in time to catch a Jordan Farmar alley-oop. I didn't know "Nick Young" and "hustle" could be used in the same sentence unless Rick Ross was rapping. Mike Breen shares my surprise at the sight of Nick Young not doing Nick Young Things.[2]
2
11:08 pm – While Googling "Marreese Speights thing on head" I almost miss Jordan Farmar hitting a three to end the 1st quarter.
After one, Lakers up 22-21 on the Warriors. Kobe Bryant has yet to play.
11:12 pm – J.A. Adande's between-quarters interview goes a little something like this: "How does Steph Curry being out hurt your team?" to which Mark Jackson answers "Well he's our best player" – riveting television. Adande knows how to ask the tough questions.
11:20 pm – Xavier Henry attempts an alley-oop pass, but instead throws the ball straight out of bounds – I had literally just finished writing the sentence "I'm oddly okay with Xavier Henry." Awesome.
11:26 pm – If it weren't for these Reebok commercials, I would've forgotten that the Cavaliers selected Nerlens Noel with the #1 pick in this year's NBA draft. (Checking…) Wait, they didn't? Who's Anthony Bennett?
Oh right, he's the guy with almost as many fouls as points this season. Who was drafting for the Cavs, Isiah Thomas?
11:30 pm –Pau Gasol schools Andrew Bogut with a beautiful up and under move. Take that, Boguts.
Gasol's playing well tonight, touting a stellar line of 16 points, 4 rebounds and 2 assists with less than 3 minutes left in the 2nd quarter.  He must know I'm watching.
11:41 pm – At the half, it's Lakers 55, Warriors 46.
Things I learned during the 1st Half
Marreese Speights has a bizarre scar on the top of his head
Pau Gasol is donating $1,000 to Typhoon Haiyan relief for every point he scores tonight
Marreese Speights does not like heavyset women
12:08-12:20 am – To begin the 2nd half, Steve Nash joins Breen and Van Gundy courtside. Breen explains that Nash is suffering through a nerve root irritation injury, which I'm pretty sure is just another way of saying he's really old. A few of the highlights from the interview:
Mike Breen to Steve Nash, "Doesn't Mike D'Antoni deserve a lot of credit?"
I missed Nash's answer, because I had to leave the room and throw up.
Shawne Williams air balling a three-pointer, followed by complete silence from the booth.
Breen to Nash – "So when's Kobe coming back?" Wish I was making this up.
Xavier Henry dribbles the ball off his foot out of bounds. Or maybe it was Wesley Johnson. Or Nick Young. It's all just one big blob of awful.[3]
Breen finishing off the interview with, "Great looking suit, but I'd rather see you in orange and gold." It could just be me, but I always thought the Lakers wore purple and gold.
3
Mike Breen must've hit the bar at halftime. Speaking of which, I think it's time I crack open a beer myself.
12:26 am – Trailer for "A Madea Christmas". Can't. Look. Away.
After this, I'm pretty sure the 4th quarter happened. Maybe it didn't, I don't remember. A quick look at the progression of my Google search history is a good microcosm of the way the game went.
My Google searches, in order, from 10:30 pm-12:45 am:
Steve Blake
Marreese Speights weird thing on head
Marreese Speights head scar
Marreese Speights jersey
Derrick Rose knee
Tyler Perry
Number of Madea movies
Jennifer Lawrence single
Candy Crush cheats
Vanessa Bryant
#Journalism
Glad I stayed in on Friday night to watch this hilarious travesty of a game.
12:57am – Final Score: Lakers 102, Warriors 95, Rory Goulding 0.